Home
>
Census instructions
School Survey Data for Non-State Schools - Qld 2017
Instructions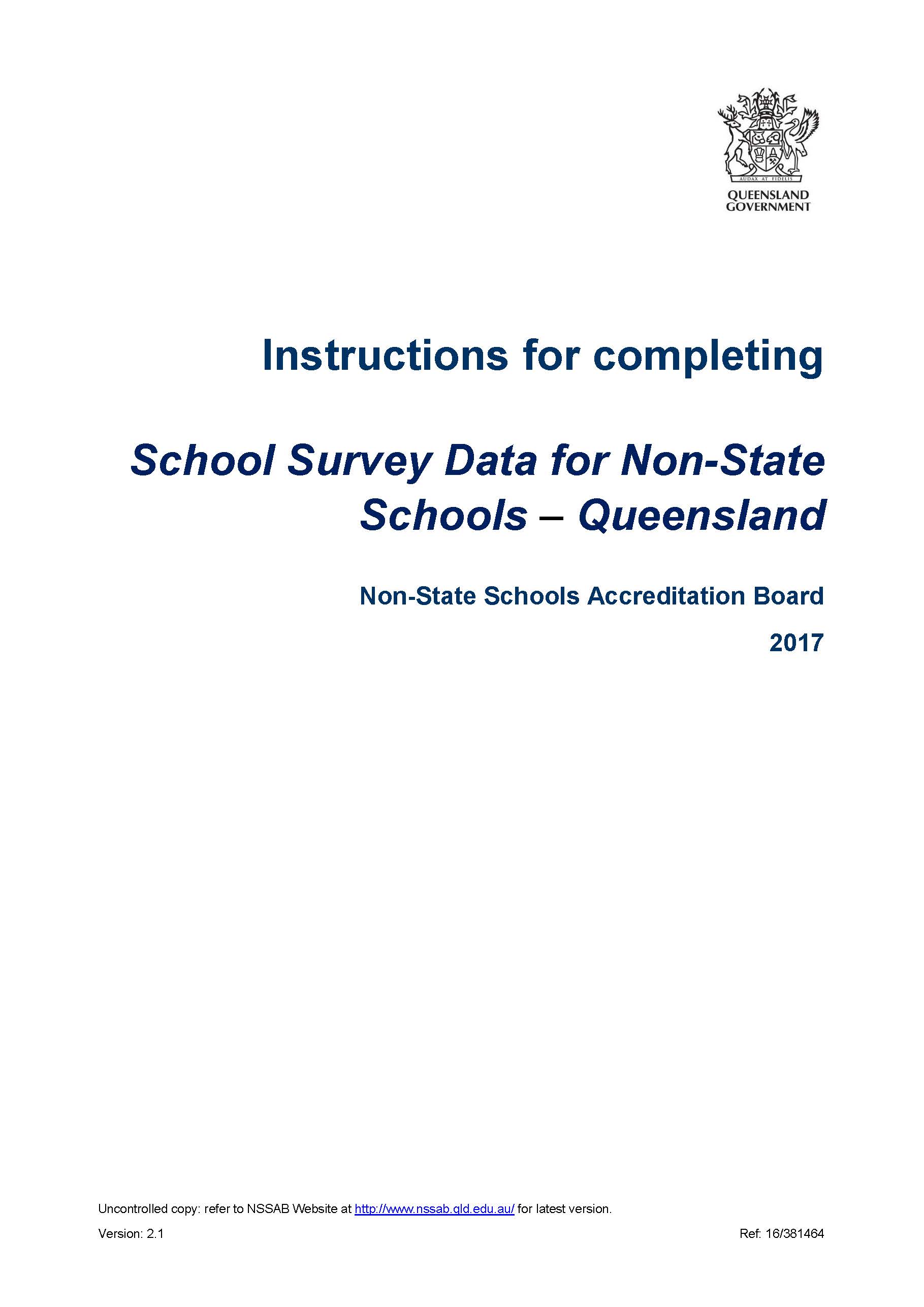 Download the Instructions for completing School Survey for Non-State Schools - Queensland 2017 [PDF 0.97MB].
Video Help Files (Vodcasts)
The Board has developed a number of vodcasts to assist users with the completion of the School Survey Data for Non-State Schools – Queensland 2017. Please click on a link below to view the vodcast.
Overview
Data provided in the School Survey Data for Non-State Schools – Queensland 2017 (the 'Census form') are used by the Non-State Schools Accreditation Board (the 'Board') in connection with its statutory functions. The data are also used by the Queensland Department of Education and Training (the 'Department') in assessing the entitlement to allowances distributed to governing bodies of non-State schools on behalf of the Queensland Minister for Education.
State recurrent funding is not payable for overseas students, who are responsible for the cost of their own education. These are to be excluded from all calculations except in the section on OVERSEAS STUDENTS.
Census day
The Census Day is the last Friday of February of each year.
Complete the Census form using data as at Friday, 24 February 2017, except for Boarding fee concessions, which refers to 2016 data.
Return date
The completed Census form is to be submitted to the Non-State Schools Accreditation Board Secretariat ('NSSAB Secretariat') via NSSAB Online Services by Friday, 3 March 2017 (Friday following Census Day).
Please note: Completed Census forms submitted before Census Day (Friday, 24 February 2017) will not be accepted.
Census form
The Census form is now available for download as an interactive PDF.
Information collected
The Census form collects data on:
Retention of Documentation
Recent legislative changes require that all enrolment, attendance and related documentation used in completing the Census form is to be retained by the school/governing body for a period of five years from Census Day, and in a way that ensures the integrity and security of the data and documents.
Census Feedback
The Board is interested in your feedback in relation to the administration and collection of the Census data. The fseedback submitted will be used to improve and refine the process of how the Census is maintained and performed from the user's perspective. Please take a few minutes to complete the Census Feedback web survey. All responses are anonymous.
Last updated 17 February, 2017